Home Made Climate Conference
by GASTSTUBE° (Fleischlin/Galeazzi/Liebmann)
April 2021 Kaserne Basel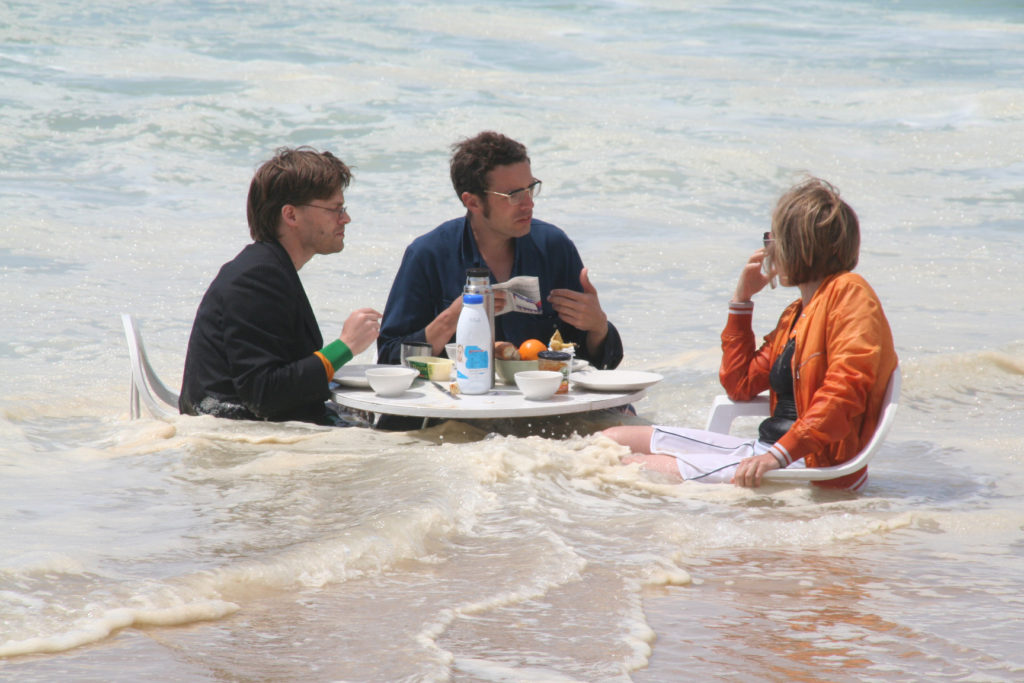 With their "home made climate conference" GASTSTUBE° develops a performative forum to explore together with people, plants, things and other entities what it coule mean to "live in the climate crisis" . The fundamental questioning of our home-made ecological "performance" and its effects on future life is at the center of the discussion. The "home made climate conference" tries – politically and poetically – to make the scope of this crisis tangible and asks which attitudes and actions enable prospects for a livable future.
The collective of Beatrice Fleischlin, Nicolas Galeazzi and Andreas Liebmann existed from 2001-2007 and practiced experimental performance formats that worked with unfinishedness as practice and the constant formal variation of found material. In 2019, they launched a new long-term collaboration There, they explore the fragile possibilities of existence in the ruins of capitalism and imagine practices for collective survival. They develop artistic tools, techniques, and work ethics that make the principle of fair practices and sustainability their foundation: How can resources-such as time, relationships, money, space, fossil fuels-be used with care, and how can this care also become artistic quality?
GASTSTUBE° shares its research and experience through workshops and sharings, so that its projects are always an invitation to design the future together.
CONCEPT GASTSTUBE° PERFORMANCE Beatrice Fleischlin, Nicolas Galeazzi, Andreas Liebmann SOUND Martin Gantenbein PRODUCTION MANAGEMENT Elena Conradt / produktionsDOCK Kollaboration mit Architekt*innen von Countdown 2030 und Alma Maki COPRODUCTION Kaserne Basel, KlimaKontor Basel, Neighbourhub Fribourg, Tårnby Park Studio Kopenhagen FUNDED by m2act – Das Förder- und Netzwerkprojekt des Migros-Kulturprozent für die Darstellenden Künste, Fachausschuss Tanz & Theater BS/BL (Stand 27.11. 2020)